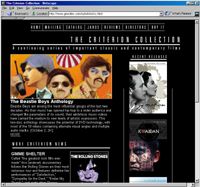 http://www.geocities.com/nyhofstra/cc.html
CLICK TO LAUNCH IN NEW WINDOW

CRITERION COLLECTION
Personal Project

This was a "labor of love" for me, as I love the Criterion Collection of films. The current Criterion website is less-than-optimal, in my opinion, so I decided to take a crack at my own design. This is the result.

I wanted to create a site that would reflect the style of packaging used by Criterion; a very clean, black and white style. I like the way the black and white of the design accentuates the colorful covers produced by Criterion for their films. I produced a "home" page and a sample "catalog" page, which would be the brunt of the site's content.