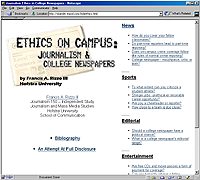 http://islander.tripod.com/indyethics.html
CLICK TO LAUNCH IN NEW WINDOW

ETHICS ON CAMPUS
Independent Study

I took a look at the ethics of campus media at universities for one of my independent studies at Hofstra University under my advisor Steven Knowlton.

I examined the role of ethics in news reporting, sports reporting, entertainment reviews, business and the editorial section. The unique dynamic of the college campus presents different challenges to the student journalist, and some personal policing has to occur if ethics are to be maintained.