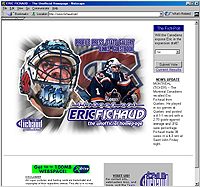 http://www.fichaud.net
CLICK TO LAUNCH IN NEW WINDOW

FICHAUD.NET
Personal Project

This site started as a small hobby site a few years ago, and grew, with the help of Linda Kahrs of Invision, into a full tribute site to NHL goaltender Eric Fichaud.

The site utilizes frames to present an online guide to Fichaud, including a photo gallery and press room, among other features. Due to the ever-changing nature of sports, and Fichaud's tendency to be traded, the site has undergone a number of design changes and will likely continue to do so.